freezer/refrigerator thermometer
A kitchen tool that registers temperatures from about –20° to 80°F. This thermometer is important because frozen food that's not maintained at 0°F or below will begin to deteriorate, thereby losing both quality and nutrients. Likewise, fresh food risks potential spoilage if refrigerated at a temperature higher than 40°F. A freezer/refrigerator thermometer should be positioned near the top and front of the freezer and left there for at least 6 hours (without opening the door) before the temperature is checked. If the thermometer's temperature doesn't read 0°F or below, adjust the freezer's temperature regulator and check in another 6 hours. Refrigerator temperature may be checked in the same way. See also candy thermometer; meat thermometer; oven thermometer.

From The Food Lover's Companion, Fourth edition by Sharon Tyler Herbst and Ron Herbst. Copyright © 2007, 2001, 1995, 1990 by Barron's Educational Series, Inc.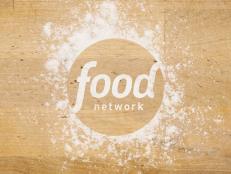 Millions of people get sick from undercooked food each year— many chalk it up to a stomach bug or the flu, but oftentimes the cause is the food in your own home. Using a thermometer makes sure you've killed those pesky bacteria lurking in your food.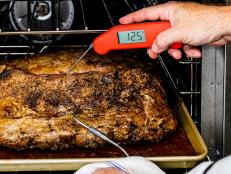 No more poking or cutting into the meat to find out if it is cooked through ever again.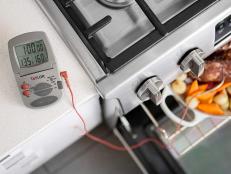 This tool is the perfect kitchen assistant for life's most precious meals.