Also called a skillet, this long-handled, usually round pan has low, gently sloping sides so steam doesn't collect within the pan. It's used for frying foods over high heat, so it should be thick enough not to warp and should be able to conduct heat evenly. Frying pans come in various sizes, usually 8, 10 and 12 inches in diameter. Electric frying pans or skillets are often square or oblong in shape. Their heat is controlled by an adjustable thermostat unit that can be detached when the skillet is washed.

From The Food Lover's Companion, Fourth edition by Sharon Tyler Herbst and Ron Herbst. Copyright © 2007, 2001, 1995, 1990 by Barron's Educational Series, Inc.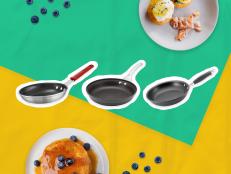 We seared, flipped and scrambled to find our favorite nonstick pans.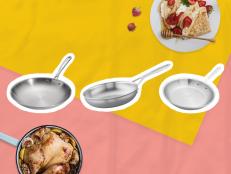 We discovered which stainless steel pans really sizzle, not to mention shallow fry, steam and saute!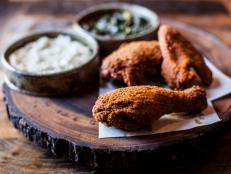 Find Food Network's top spots for hot chicken and classic, crispy legs and wings.