Pronunciation: [gah-LEHT]

Hailing from France, a galette is a round, rather flat cake made of flaky-pastry dough, yeast dough or sometimes unleavened dough. The term also applies to a variety of tarts, both savory and sweet, and there are as many variations as there are French regions. They may be topped with fruit, jam, nuts, meat, cheese, etc. Galette des Rois, the traditional cake served during Twelfth Night festivities, often contains a bean or other token, which is guaranteed to bring the recipient good luck.

From The Food Lover's Companion, Fourth edition by Sharon Tyler Herbst and Ron Herbst. Copyright © 2007, 2001, 1995, 1990 by Barron's Educational Series, Inc.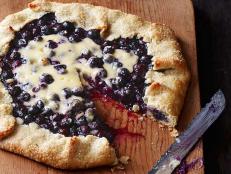 For a sweet summer treat, try making Food Network Magazine's galette. It's a rustic fruit tart that blends the flavors of a blueberry pie and a cheesecake into one.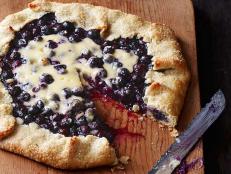 Try this alternative to cheesecake made with flaky pastry dough, sweet cream cheese and bursting blueberries for a Labor Day dessert that can be sliced and served to a crowd.