Made from grain (such as barley, corn or rye), gin is first distilled (see distillation) to a desired alcohol level, then re-distilled with juniper berries and other botanicals (such as angelica, anise, caraway seed, cardamom, cassia bark, citrus peel, coriander seeds, ginger, licorice and orris root) to extract the desired flavors. Distilled water is then added to adjust the alcohol concentration to somewhere between 80 and 95 proof. The two primary styles of gin are Dutch and dry. Dutch gin, also known as Hollands, Genever, Jenever and Schiedam gin, is typically made from equal parts of malted (see malt) barley, corn and rye. It has a slightly sweet, malty character and is generally fuller flavored than dry gin. There are two styles of Dutch gin: Oude ("old") has a stronger flavor from a higher proportion of barley than the Jonge ("young") style, which is lighter in both flavor and texture. Dry gin—the preferred choice for most gin drinkers—is made primarily from corn with a small percentage of malted barley and other grains. It's typically dry (not sweet), aromatic and moderately light in flavor and body. Dry gins made in England (where this style originated) commonly have a slightly higher alcohol content and are more flavorful than American-made gins. Labels indicating "English Dry Gin," "London Dry Gin" or "London Extra Dry Gin" allude to the gin's style, not where it was produced. Plymouth gin (also called Plym), a dry gin made only in Plymouth, England, is fuller bodied, smoother and stronger flavored than London styles. Golden gin has been aged briefly in wood (although aging is not standard practice for most gin), which contributes a light golden color to the normally colorless spirit. Old Tom Gin, a sweetened English-made gin is hard to find outside of Britain. Sloe gin isn't actually gin, but a liqueur

From The Food Lover's Companion, Fourth edition by Sharon Tyler Herbst and Ron Herbst. Copyright © 2007, 2001, 1995, 1990 by Barron's Educational Series, Inc.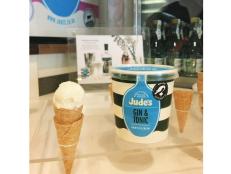 The perfect summer refresher: gin and tonic or ice cream? Now you don't have to choose.