A cocktail made with gin, lemon juice, sugar and soda, served in a tall glass over ice. Add an egg yolk for a Golden Fizz, an egg white for a Silver Fizz and a whole egg for a Royal Gin Fizz. Adding orange-flower water and cream or milk to a silver fizz transforms it into a Ramos gin fizz, a New Orleans original created in the late 1800s by bar owner Henry Ramos.

From The Food Lover's Companion, Fourth edition by Sharon Tyler Herbst and Ron Herbst. Copyright © 2007, 2001, 1995, 1990 by Barron's Educational Series, Inc.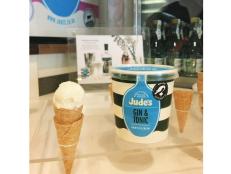 The perfect summer refresher: gin and tonic or ice cream? Now you don't have to choose.