This popular snack was touted as a health food in the 1830s by its creator, Rev. Sylvester Graham, a United States dietary reformer. It's a rectangular-shaped, whole-wheat cracker that has been sweetened, usually with honey. Graham-cracker crust is made from a mixture of finely crushed graham crackers, sugar and butter that is pressed into a pie pan. It's usually baked, but can simply be chilled before being filled.

From The Food Lover's Companion, Fourth edition by Sharon Tyler Herbst and Ron Herbst. Copyright © 2007, 2001, 1995, 1990 by Barron's Educational Series, Inc.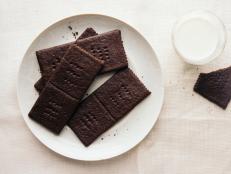 Make from-scratch graham crackers with chocolate for the best simple cookies — or s'mores starter — you never knew you wanted.