Pronunciation: [hah-REE-suh]

From Tunisia, this fiery-hot sauce is usually made with hot chiles, garlic, cumin, coriander, caraway and olive oil. It's the traditional accompaniment for couscous but is also used to flavor soups, stews and other dishes. Harissa can be found in cans and jars in Middle Eastern markets.

From The Food Lover's Companion, Fourth edition by Sharon Tyler Herbst and Ron Herbst. Copyright © 2007, 2001, 1995, 1990 by Barron's Educational Series, Inc.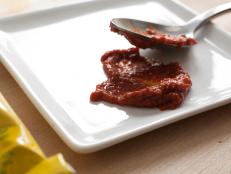 Learn all the different ways you can use harissa so you can cook just like an All-Star.