A dark brownish gray cultivated mushroom that resembles a tightly ruffled puff edged in white. The name of this rich-flavored mushroom is said to come from the fact that its shape vaguely resembles the body of a hen. Also called maitake and kumotake. See also mushroom.

From The Food Lover's Companion, Fourth edition by Sharon Tyler Herbst and Ron Herbst. Copyright © 2007, 2001, 1995, 1990 by Barron's Educational Series, Inc.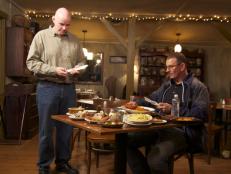 Find out how Pinehurst Country Lodge is doing after their Restaurant: Impossible renovation with Food Network's Robert Irvine.