This huge sandwich goes by many names, depending on where it's made. Among its aliases are submarine, grinder, hoagie and poor boy (or po' boy). Generally, the hero sandwich consists of a small loaf of Italian or French bread (or a large oblong roll), the bottom half of which is heaped with layers of any of various thinly sliced meats, cheeses, tomatoes, pickles, lettuce, peppers—anything for which the cook is in the mood.

From The Food Lover's Companion, Fourth edition by Sharon Tyler Herbst and Ron Herbst. Copyright © 2007, 2001, 1995, 1990 by Barron's Educational Series, Inc.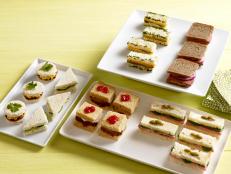 Food Network Magazine has given an old-fashioned favorite a fun new twist.