Also called century egg, thousand-year egg and Ming Dynasty egg, all of which are eggs that have been preserved by being covered with a coating of lime, ashes and salt before being shallowly buried for 100 days. The lime "petrifies" the egg, making it look like it's been buried for at least a century. The black outer coating and shell are removed to reveal a firm, amber-colored white and creamy, dark green yolk. The flavor is pungent and cheeselike. Eggs from chickens are generally used, though duck and goose eggs are also preserved in this manner. Hundred-year eggs are sold individually and can be found in Chinese markets. They will keep at room temperature (under 70°F) for up to 2 weeks or in the refrigerator up to a month. These preserved eggs are usually eaten uncooked, either for breakfast or served as an appetizer, often with accompaniments such as soy sauce or minced ginger.

From The Food Lover's Companion, Fourth edition by Sharon Tyler Herbst and Ron Herbst. Copyright © 2007, 2001, 1995, 1990 by Barron's Educational Series, Inc.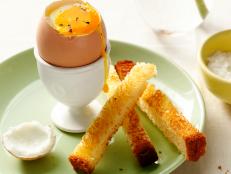 Egg lovers, rejoice! Here's a recipe for every Sunday until this time next year from Food Network Magazine.