America's favorite dessert is thought to have originated in the mountains of ancient China, with snow probably used as the base. Today's ice cream is made with a combination of milk products (usually cream combined with fresh condensed or dry milk), a sweetening agent (sugar, honey, corn syrup or artificial sweetener) and sometimes solid additions such as pieces of chocolate, nuts, fruit and so on. According to FDA regulations, ice creams with solid additions must contain a minimum of 8 percent milk fat, while plain ice creams must have at least 10 percent milk fat. French ice cream has a cooked egg-custard base. Ice milk is made in much the same way as ice cream, except for the fact that it contains less milk fat and milk solids. The result, other than a lowered calorie count, is a lighter, less creamy texture. Commercial ice creams usually contain stabilizers to improve both texture and body, and to help make them melt resistant. Many also contain artificial coloring. Those made with natural flavorings (for instance, chocolate) will be labeled simply "Chocolate Ice Cream." If the majority of the flavoring is natural with a boost from an artificial-flavor source, the label will read "Chocolate-Flavored Ice Cream"; if more than 50 percent of the flavoring is artificial it will read "Artificial Chocolate Ice Cream." All commercial ice creams have "overrun," a term applied to the amount of air they contain. The percentage of overrun ranges from 0 (no air) to 200, a theoretical figure that would be all air. The legal overrun limit for ice cream is 100 percent, which would amount to half air. Ice cream needs some air or it would be rock-hard. But one with 100 percent overrun would have so little body that it would feel mushy in the mouth; it would also melt extremely fast. An ice cream with the more desirable proportion of 20 to 50 percent overrun (10 to 25 percent air) would be denser, creamier and eminently more satisfying. Since the overrun is not listed on the package, the only way to be absolutely sure is to weigh the carton. Ice cream with a 50 percent overrun (25 percent air) will weigh about 18 ounces per pint (subtract about 1½ ounces for the weight of the container). The weight of the ice cream will be proportionately higher with a lower percentage of overrun. During storage, ice cream has a tendency to absorb other food odors and to form ice crystals. For that reason, it's best not to freeze it for more than two to three days. Sealing the carton airtight in a plastic bag will extend storage life up to a week. Ice cream is used for a plethora of delicious treats including baked Alaskas, banana splits and ice cream bars, sandwiches and cakes (cake layered with ice cream and frozen).

From The Food Lover's Companion, Fourth edition by Sharon Tyler Herbst and Ron Herbst. Copyright © 2007, 2001, 1995, 1990 by Barron's Educational Series, Inc.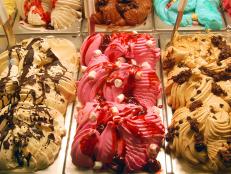 No, gelato and ice cream aren't the same thing. Here are a few key differences.