The origin of Jack cheese is most often attributed to David Jacks, a Monterey, California, businessman in the late 1800s. However, historical evidence shows that it actually was based on a recipe for queso del país ("country cheese"), brought to California by Franciscan monks in the 1700s. Nevertheless, we do know that David Jacks increased the popularity and demand for this cheese when he began shipping it to San Francisco and points beyond in the United States. The name Monterey Jack came about because production was initially centered in Monterey County, California. Eventually, other areas named the cheese for their region, as with Sonoma Jack (Sonoma County, California), and now this cheese is made in other parts of the United States. Jack can be made from raw or pasteurized cow's milk. It comes in several styles — semisoft, semihard, hard and grana. Jacks typically have a thin rind, though some are rindless. The interior can range from pale yellow to deep golden, depending on the age. While the flavor of young Jacks is delicate, mild and fresh, aged versions (called dry Jack) are full-flavored, rich and almost sweet, with hints of fruit and caramel. Young Jack cheese is only ripened for a few weeks, while dry Jack is aged for 7 to 10 months or longer. The high-moisture regular Jack cheese comes plain or with added flavorings such as chiles, garlic, herbs, horseradish, chili peppers and onion.

From The Food Lover's Companion, Fourth edition by Sharon Tyler Herbst and Ron Herbst. Copyright © 2007, 2001, 1995, 1990 by Barron's Educational Series, Inc.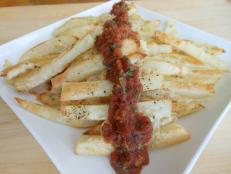 When you think of healthy food, cheese fries don't usually come to mind, but Robin's resolution-friendly version has fewer than 300 calories per serving.