Pronunciation: [LAHT-kuh]

Traditionally served at Hanukkah, the latke is a pancake usually made from grated potatoes mixed with eggs, onions, matzo meal and seasonings. It's fried and served hot as a side dish.

From The Food Lover's Companion, Fourth edition by Sharon Tyler Herbst and Ron Herbst. Copyright © 2007, 2001, 1995, 1990 by Barron's Educational Series, Inc.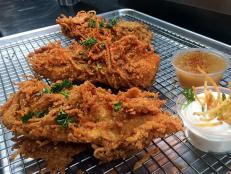 The creative forces behind Sticky's Finger Joint, NYC's unusual chicken-strip mecca, came up with the perfect way to celebrate Hanukkah: a latke-chicken finger hybrid they're calling The Latka.