A brownish-yellow liquid made by capturing and condensing the vapors from burning wet wood chips (usually hickory). Liquid smoke is used to add a smoky quality to foods in an attempt to capture the flavor of wood-fire grilling. It's typically found adjacent to barbecue sauces in the supermarket.

From The Food Lover's Companion, Fourth edition by Sharon Tyler Herbst and Ron Herbst. Copyright © 2007, 2001, 1995, 1990 by Barron's Educational Series, Inc.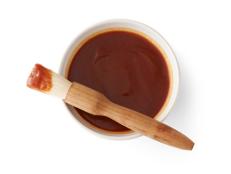 Upgrade your barbecue sauce with help from six legendary pit masters in South Carolina, Memphis, North Carolina, Texas, Kansas City and Kentucky.