Pronunciation: [MAS-uh-rayt]

To soak a food (usually fruit) in a liquid in order to infuse it with the liquid's flavor. A spirit such as brandy, rum or a liqueur is usually the macerating liquid. See also marinate.

From The Food Lover's Companion, Fourth edition by Sharon Tyler Herbst and Ron Herbst. Copyright © 2007, 2001, 1995, 1990 by Barron's Educational Series, Inc.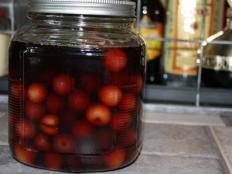 You may think of drying, canning or jam making to preserve fresh fruit – how about soaking up some alcohol?