Pronunciation: [man-ih-KAHT-tee; man-nee-KOH-tee]

Italian for "little muffs." Very large pasta tubes about 4 inches long and 1 inch in diameter; used for stuffing.

From The Food Lover's Companion, Fourth edition by Sharon Tyler Herbst and Ron Herbst. Copyright © 2007, 2001, 1995, 1990 by Barron's Educational Series, Inc.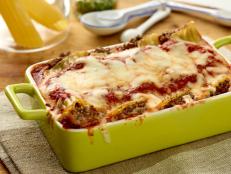 Indulge in this top-rated three-cheese manicotti from Giada De Laurentiis.