Flecks or thin streaks of fat that run throughout a piece of meat, enhancing its flavor, tenderness and juiciness. Very lean cuts of meat are sometimes artificially marbled ( lard v.)

From The Food Lover's Companion, Fourth edition by Sharon Tyler Herbst and Ron Herbst. Copyright © 2007, 2001, 1995, 1990 by Barron's Educational Series, Inc.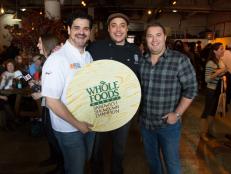 New York City's Marble Lane won the 2012 Sandwich Showdown at the New York City Wine & Food Festival, hosted by Food Network's Sandwich King, Jeff Mauro.