Pronunciation: [mahr-KOH-nah]

This large, wide, flat almond is imported from Spain, where it's primarily grown in the Catalonia region. Though ubiquitous in Spain, Marcona almonds didn't become popular in the United States until the late 1990s. Sometimes referred to as "the queen of almonds," the Marcona has a higher fat content than California-grown almonds and is known for its soft crunch and rich, sweet flavor. Marcona almonds are available either fried in olive or sunflower oil and salted or raw and blanched. See also almond; nuts.

From The Food Lover's Companion, Fourth edition by Sharon Tyler Herbst and Ron Herbst. Copyright © 2007, 2001, 1995, 1990 by Barron's Educational Series, Inc.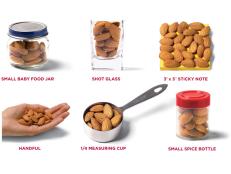 One serving of almonds equals 23 nuts, but if you're not one to count up your snacks, use this visual guide to help you control portions.