A bright yellow flower used culinarily to flavor and add color to salads, soups and other dishes. The petals are sometimes dried, powdered and used as a coloring agent. See also flowers, edible.

From The Food Lover's Companion, Fourth edition by Sharon Tyler Herbst and Ron Herbst. Copyright © 2007, 2001, 1995, 1990 by Barron's Educational Series, Inc.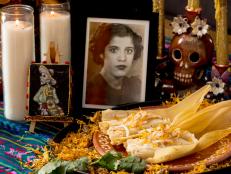 The flower brings vibrant color and fragrance to Dia de Los Muertos altars — and it can do the same for just about any dish.