n. Grain or malt that is ground or crushed before being steeped in hot water. Mash is used in brewing beer and in the fermentation of whiskey. Sour mash is made by adding a portion of the old mash to help ferment each new batch in the same way as a portion of sourdough starter is the genesis of each new batch of sourdough bread. mash v. To crush a food (such as cooked potatoes) into a smooth, evenly textured mixture.

From The Food Lover's Companion, Fourth edition by Sharon Tyler Herbst and Ron Herbst. Copyright © 2007, 2001, 1995, 1990 by Barron's Educational Series, Inc.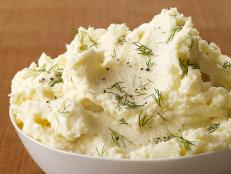 Get inspired with 50 delicious mashed potato recipes from Food Network Magazine.