Meat grinders can be either manual (operated by a hand crank) or electric; the housing can be made of cast iron or tough plastic. Hand-operated meat grinders are attached to a countertop by a clamp-and-screw mechanism, whereas electric models are freestanding. They both work on the same principle, by forcing chunks of meat through a rotating blade, then through a perforated cutting disk.

From The Food Lover's Companion, Fourth edition by Sharon Tyler Herbst and Ron Herbst. Copyright © 2007, 2001, 1995, 1990 by Barron's Educational Series, Inc.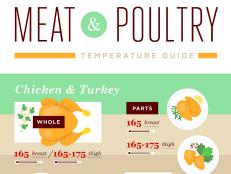 Use our internal-temperature chart to serve perfectly cooked meat every time.