1. A sweet yeast bread formed by arranging small clumps of dough (which are usually dipped in melted butter) in 3 or 4 overlapping layers in a pan. The pan can be round, oblong or tube-shape. After baking, the clumps cling together to form a solid loaf. Monkey bread can be sweet (flavored with raisins, nuts, cinnamon and sugar) or savory (often made with grated cheese). 2. A gourdlike fruit of the baobab, a thick-trunked tree native to Africa. The extremely high-starch fruit is generally only eaten by monkeys.

From The Food Lover's Companion, Fourth edition by Sharon Tyler Herbst and Ron Herbst. Copyright © 2007, 2001, 1995, 1990 by Barron's Educational Series, Inc.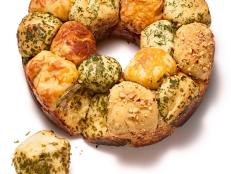 Instead of passing the bread basket on Thanksgiving, serve this fun pull-apart loaf from Food Network Magazine.