Monkfish, also known as angler fish, is large, ugly, low-fat and firm textured. It has a mild, sweet flavor sometimes compared with lobster.

From The Food Lover's Companion, Fourth edition by Sharon Tyler Herbst and Ron Herbst. Copyright © 2007, 2001, 1995, 1990 by Barron's Educational Series, Inc.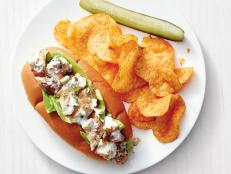 The flavor and texture of monkfish is surprisingly similar to lobster, at a fraction of the price.