Oblong, light tan to reddish brown beans with a yellow interior, moth beans are tiny—generally less than 3⁄16 of an inch long. Also known as dew, mat, mot, muth, papillon and Turkish gram beans, they have a slightly sweet, nutty flavor. Moth beans are widely used in Indian and Asian cooking as well as for sprouting (see sprouts). See also beans.

From The Food Lover's Companion, Fourth edition by Sharon Tyler Herbst and Ron Herbst. Copyright © 2007, 2001, 1995, 1990 by Barron's Educational Series, Inc.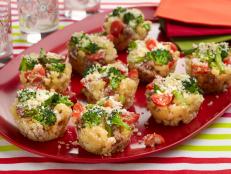 Giada celebrates Mother's Day with kid-friendly foods for her 2-year-old daughter, Jade, along with easy crowd-pleasing favorites like pasta salad and a frittata.