1. A French term meaning "froth" or "foam," mousse is a rich, airy dish that can be sweet or savory and hot or cold. Cold dessert mousses are usually made with fruit purée or a flavoring such as chocolate. Their fluffiness is due to the addition of whipped cream or beaten egg whites and they're often fortified with gelatin. Savory mousses can be made from meat, fish, shellfish, foie gras, cheese or even vegetables. Hot mousses usually get their light texture from the addition of beaten egg whites. They're generally baked in a water bath to prevent the mixture from curdling. 2. When applied to wine, the word mousse describes the foam that forms on the surface of champagne or other sparkling wine when it's first poured. Mousse is analogous to the term "head," which is the foam on a freshly poured glass of beer.

From The Food Lover's Companion, Fourth edition by Sharon Tyler Herbst and Ron Herbst. Copyright © 2007, 2001, 1995, 1990 by Barron's Educational Series, Inc.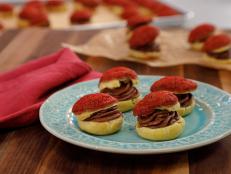 We never want to eat them any other way!