Pronunciation: [muhl-ih-guh-TAW-nee]

The name derives from the Tamil, a people inhabiting southern India and the surrounding area, and means "pepper water." This soup is based on a rich meat or vegetable broth highly seasoned with curry and other spices. It usually contains bits of chicken (sometimes other meats), and can also include rice, eggs, coconut shreds and even cream.

From The Food Lover's Companion, Fourth edition by Sharon Tyler Herbst and Ron Herbst. Copyright © 2007, 2001, 1995, 1990 by Barron's Educational Series, Inc.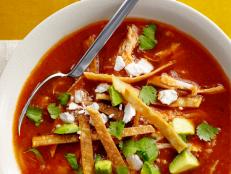 Stay warm all season with dozens of soups from Food Network Magazine.