Pronunciation: [MUHS-uhl]

Archaeological findings indicate that this bivalve mollusk (see both listings) has been used as food for over 20,000 years. Europeans love mussels, which are cultivated on special farms to meet the high demand. Americans, however, have never been as enamored of mussels as they have of oysters and clams, and huge quantities along U.S. coasts go unharvested. There are dozens of mussel species, all of which have an extremely thin, oblong shell that can range in color from indigo blue to bright green to yellowish-brown. Depending on the species, the shell can be from 1½ to 6 inches in length. The creamy-tan meat is tougher than that of either the oyster or clam but it has a delicious, slightly sweet flavor. The most abundant mussel is the blue (or common) mussel found along the Mediterranean, Atlantic and Pacific coasts. Its shell is dark blue and 2 to 3 inches in length. The green-lipped mussel is imported from New Zealand (which is why it's also called New Zealand green mussel) and has a large (3 to 4 inches long), bright green shell. Live, fresh mussels are genrally available year-round. On the West Coast, however, the mussel season is November through April. This is because microscopic organisms (of "red tide" notoriety) make mussels unsafe to eat during the spring and summer months. Buy mussels with tightly closed shells or those that snap shut when tapped--otherwise they're not alive and fresh. Avoid those with broken shells, that feel heavy (meaning they're full of sand) or that feel light and loose when shaken (signalling that the mussel is dead). Shucked mussels should be plump, their liquid clear. Small mussels will be more tender than large ones. Fresh mussels, live or shucked, should be stored in the refrigerator and used within a day or two. Plain and smoked mussels packed in oil are also available. Mussels may be steamed, fried, baked or used as an ingredient in dishes like bouillabaisse or paella. See also shellfish.

From The Food Lover's Companion, Fourth edition by Sharon Tyler Herbst and Ron Herbst. Copyright © 2007, 2001, 1995, 1990 by Barron's Educational Series, Inc.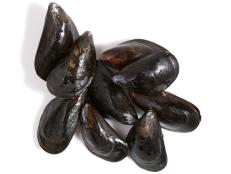 A guide to buying and cooking mussels.