Pronunciation: [noh-PAH-lays]

Long popular in Mexico, these fleshy oval leaves (also called pads or paddles) of the nopal (prickly pear) cactus are gaining popularity in the United States. They range in color from pale to dark green and have a delicate, slightly tart green-bean flavor. Though fresh nopales (also called cactus leaves) are available year-round in Latin markets and some supermarkets, they're at their most tender and juicy best in the spring. Look for small, firm, pale-green nopales with no sign of wrinkling. Refrigerate tightly wrapped for up to a week. Before use, the thorns must be removed; a vegetable peeler will shave them off quickly. The flesh is generally cut into small pieces or strips, simmered in water until tender and used in a variety of dishes from scrambled eggs to salads. Nopalitos (nopales that are diced or cut into strips) are available canned (pickled or packed in water). Acitrones are candied nopales, packed in sugar syrup and available in cans or jars.

From The Food Lover's Companion, Fourth edition by Sharon Tyler Herbst and Ron Herbst. Copyright © 2007, 2001, 1995, 1990 by Barron's Educational Series, Inc.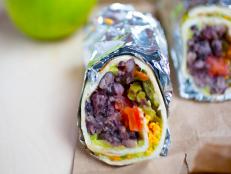 Try a new recipe idea that will set your lunchbox apart from the rest, Chopped Junior style.