In the wine world, the word "nose" refers to the olfactory sense of wine. Some enophiles use the term as a descriptor for wines with an extremely intense bouquet, although common usage doesn't generally connote quality.

From The Food Lover's Companion, Fourth edition by Sharon Tyler Herbst and Ron Herbst. Copyright © 2007, 2001, 1995, 1990 by Barron's Educational Series, Inc.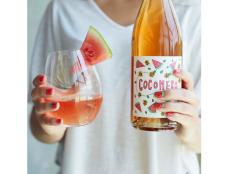 Its label smells like watermelon, which is what its name means in Italian and a flavor it is said to evoke.