Although the origin of the name is vague, it seems to come from the longtime association between the Irish and potatoes. The dish consists of diced potatoes (sometimes precooked) that are fried with chopped onions and pimientos until the potatoes are crisp and brown. Some variations use sweet red or green peppers instead of pimientos.

From The Food Lover's Companion, Fourth edition by Sharon Tyler Herbst and Ron Herbst. Copyright © 2007, 2001, 1995, 1990 by Barron's Educational Series, Inc.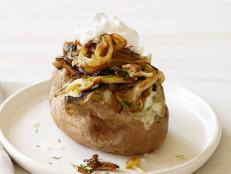 Serve these spuds from Food Network Magazine as the main dish: They're loaded with tasty toppings.