A descriptor used culinarily for a "sandwich" consisting of one slice of bread topped with various ingredients such as sliced meat, cheese, pickles, etc. Open-faced sandwiches are very popular in Scandinavia, where they've become an art form with elaborately arranged and decorated combinations. For the most part, open-faced sandwiches are cold, but there are also hot ones, which usually consist of bread topped with meat slices and gravy.

From The Food Lover's Companion, Fourth edition by Sharon Tyler Herbst and Ron Herbst. Copyright © 2007, 2001, 1995, 1990 by Barron's Educational Series, Inc.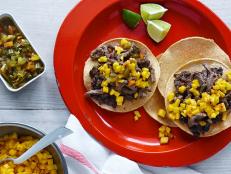 Take the Chopped Dinner Challenge and transform cube steak into these chalupas, served with mashed black beans and mango salsa.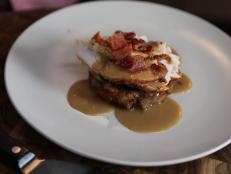 Every day this week, Food Network offers a recipe for using your Thanksgiving leftovers.