Pronunciation: [PAHN-nah KOH-tah]

Italian for "cooked cream" panna cotta is a light, silky, eggless custard, which is often flavored with caramel. It's served cold, accompanied with fruit or chocolate sauce.

From The Food Lover's Companion, Fourth edition by Sharon Tyler Herbst and Ron Herbst. Copyright © 2007, 2001, 1995, 1990 by Barron's Educational Series, Inc.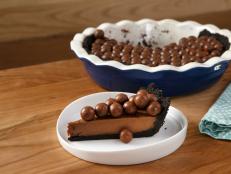 Plus, you'll get from zero to pie in no time.