Pronunciation: [pahn-zah-NEHL-lah]

An Italian bread salad made with onions, tomatoes, basil, olive oil, vinegar and seasonings and chunks of bread. Some versions also include cucumbers, anchovies and/or peppers. More traditional recipes call for soaking the bread in water and then squeezing the water out. Others suggest browning the bread in olive oil before adding it to the salad.

From The Food Lover's Companion, Fourth edition by Sharon Tyler Herbst and Ron Herbst. Copyright © 2007, 2001, 1995, 1990 by Barron's Educational Series, Inc.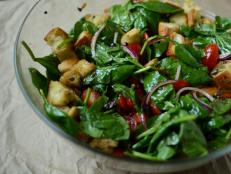 Sunny Anderson's Spicy Spinach Panzanella is sturdy but light, and quite delicious. Perfect for The Weekender.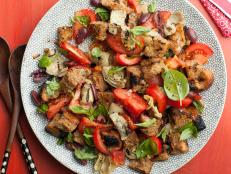 Giada gives panzanella salad a twist by grilling the bread and artichokes. She combines tomato and basil for a delicious Italian dish that's ready to eat in just 16 minutes.