In ancient times parsley wreaths were used to ward off drunkenness—though proof of their efficacy in that capacity is scarce. Today, this slightly peppery, fresh-flavored herb is more commonly used as a flavoring and garnish. Though there are more than 30 varieties of this herb, the most popular are curly-leaf parsley and the more strongly flavored Italian or flat-leaf parsley. Fresh curly leaf parsley is widely available year-round, whereas Italian parsley must sometimes be searched out in gourmet produce markets. Parsley is sold in bunches and should be chosen for its bright-green leaves that show no sign of wilting. Wash fresh parsley, shaking off excess moisture, and wrap first in paper towels, then in a plastic bag. Refrigerate for up to a week. Dried parsley is available in the spice section of most supermarkets but bears little resemblance to the flavor of fresh. Parsley is an excellent source of vitamins A and C.

From The Food Lover's Companion, Fourth edition by Sharon Tyler Herbst and Ron Herbst. Copyright © 2007, 2001, 1995, 1990 by Barron's Educational Series, Inc.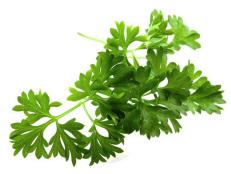 We're starting the season by celebrating a quintessential green herb: parsley. Did you know it was traditionally added to plates as a way to freshen breath after meals?