Pronunciation: [puh-STRAH-mee]

A highly seasoned beef made from a cut of plate, brisket or round. After the fat is trimmed, the meat's surface is rubbed with salt and a seasoning paste that can include garlic, ground peppercorns, cinnamon, red pepper, cloves, allspice and coriander seeds. The meat is dry-cured, smoked and cooked. Pastrami can be served hot or cold, usually as a sandwich on rye bread. It's widely available in chunks or presliced in most supermarkets.

From The Food Lover's Companion, Fourth edition by Sharon Tyler Herbst and Ron Herbst. Copyright © 2007, 2001, 1995, 1990 by Barron's Educational Series, Inc.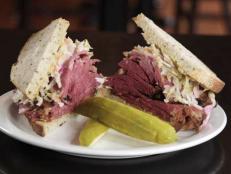 Browse through the photo gallery to see what Top 5 Restaurants features as America's best sandwiches. Then vote in the poll to tell us which dish is your favorite.