The thin tendrils and uppermost leaves of pea plants, typically snow peas, but also english peas. The fragile pea shoots are tender yet crisp with a subtle pea flavor. They can be found in farmer's markets, some specialty produce stores and Chinese markets (where they're called dau miu). Pea shoots are available year-round, depending on the locale, but are best in the spring. Choose those that are bright green and fresh looking with no sign of yellowing. Refrigerate shoots (wrapped in a paper towel, then in a plastic bag) for no more than 2 days. Wash and remove excess moisture in a salad spinner or by blotting with a paper towel. Snip off any thick stems and chop tendrils and leaves as desired. Pea shoots may be used raw in salads or stirred into hot dishes (such as soups or stir-frys) at the last minute.

From The Food Lover's Companion, Fourth edition by Sharon Tyler Herbst and Ron Herbst. Copyright © 2007, 2001, 1995, 1990 by Barron's Educational Series, Inc.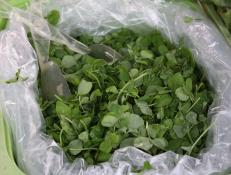 A true farmers' market find: Tender pea shoots are too delicate and perishable for the supermarket. Use them in our easy summer roll recipe.