Pronunciation: [PEH-tee fohr; puh-tee FOOR]

1. Any of various bite-size iced and elaborately decorated cakes. Petit fours can be made with any flavor cake, though white and chocolate are the most common. 2. The French also use this term to describe small, fancy cookies.

From The Food Lover's Companion, Fourth edition by Sharon Tyler Herbst and Ron Herbst. Copyright © 2007, 2001, 1995, 1990 by Barron's Educational Series, Inc.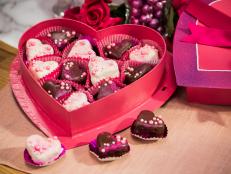 Treat your sweetheart to something special on Valentine's Day.