Pronunciation: [peh-TEE SWEES]

A rich, soft French cheese that, because it contains a minimum 60 percent milk fat, ranks as a double-cream cheese. It's the consistency of very soft cream cheese and has a delicate, sweetly tangy flavor. Petit Suisse is usually sold in small cylinders or flat squares. The most popular brand of Petit Suisse is gervais, named after Charles Gervais at Les Halles in Paris, who received the original version from a Normandy farmer's wife to sell. She'd produced the cheese at the suggestion of one of the Swiss farmhands, hence the Swiss connection. It was through Gervais' deft production and marketing methods that Petit Suisse became so widely popular. See also cheese.

From The Food Lover's Companion, Fourth edition by Sharon Tyler Herbst and Ron Herbst. Copyright © 2007, 2001, 1995, 1990 by Barron's Educational Series, Inc.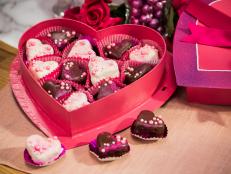 Treat your sweetheart to something special on Valentine's Day.