Pronunciation: [PEE-lahf; PIH-lahf]

This rice- or bulghur-based dish (also called pilau) originated in the Near East and always begins by first browning the rice in butter or oil before cooking it in stock. Pilafs can be variously seasoned and usually contain other ingredients such as chopped cooked vegetables, meats, seafood or poultry. In India they're highly spiced with curry. Pilaf can be served as a side dish or main dish.

From The Food Lover's Companion, Fourth edition by Sharon Tyler Herbst and Ron Herbst. Copyright © 2007, 2001, 1995, 1990 by Barron's Educational Series, Inc.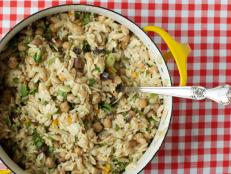 Right now, my go-to pilaf is Guy Fieri's Basmati Rice Pilaf with Prosciutto, Garbanzo Beans and Orzo. It's a perfect pairing and a quick summer meal just right for The Weekender.