A footed, tall glass that tapers from the mouth to the base. It's generally used to serve beer.

From The Food Lover's Companion, Fourth edition by Sharon Tyler Herbst and Ron Herbst. Copyright © 2007, 2001, 1995, 1990 by Barron's Educational Series, Inc.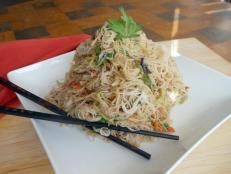 No matter what you call these noodles (cellophane, mung bean, bean thread, long rice, rice stick, glass) you'll love creating new dishes with this easy-to-cook ingredient.