To cook food gently in liquid just below the boiling point when the liquid's surface is beginning to show some quivering movement. The amount and temperature of the liquid used depends on the food being poached. Meats and poultry are usually simmered in stock, fish in court-bouillon and eggs in lightly salted water, often with a little vinegar added. Fruit is often poached in a light sugar syrup. Poaching produces a delicate flavor in foods, while imparting some of the liquid's flavor to the ingredient being poached.

From The Food Lover's Companion, Fourth edition by Sharon Tyler Herbst and Ron Herbst. Copyright © 2007, 2001, 1995, 1990 by Barron's Educational Series, Inc.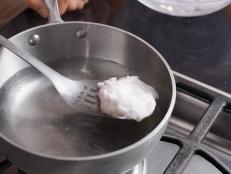 Find 1000s of Food Network's best recipes from top chefs, shows and experts. And watch videos demonstrating recipe prep and cooking techniques.