French for "pepper." Poivre blanc is white pepper and poivre gris or poivre noir is black pepper.

From The Food Lover's Companion, Fourth edition by Sharon Tyler Herbst and Ron Herbst. Copyright © 2007, 2001, 1995, 1990 by Barron's Educational Series, Inc.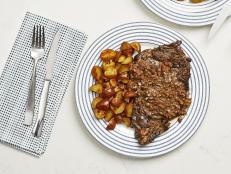 Here's how Alex Guarnaschelli's daughter, Ava Clark, turns meat and potatoes into a top-notch dinner.