Said to date back at least 6,000 years, popcorn is a special variety of dried corn that pops open and puffs up when heated. This transformation occurs because of a high amount of natural moisture trapped inside the hull. Heating the corn creates immense pressure, which bursts open the hull, turning the kernel inside-out. Popcorn comes in many styles, from white to yellow to red to blue, from plain to flavored, and from oil-popped to air-popped. There's also special popcorn formulated for use in the microwave oven, as well as ears of popcorn, the kernels of which pop right on the cob. For regular (sans oil) packaged popcorn, 1 tablespoon of oil plus ½ cup corn kernels yields about 4 cups of popped corn. Unpopped popcorn can be stored at room temperature for about a year, but retains its natural moisture (which means it will produce larger popped kernels) better if stored airtight in the refrigerator or freezer. Popcorn packaged with oil in its own "pan" should be stored no longer than about 3 months at room temperature. One cup of plain popcorn equals about 30 calories; 1 cup buttered popcorn equals 90 to 120 calories, depending on the amount of butter.

From The Food Lover's Companion, Fourth edition by Sharon Tyler Herbst and Ron Herbst. Copyright © 2007, 2001, 1995, 1990 by Barron's Educational Series, Inc.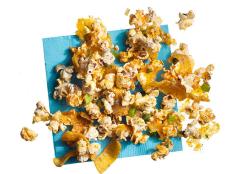 Find a new go-to snack: Food Network Magazine dreamed up dozens of cool ideas!