Also known as a parson's nose, this is the stubby tail protuberance of a dressed fowl. It seems to have originated as a derogatory term meant to demean Catholics in England during the late 17th century.

From The Food Lover's Companion, Fourth edition by Sharon Tyler Herbst and Ron Herbst. Copyright © 2007, 2001, 1995, 1990 by Barron's Educational Series, Inc.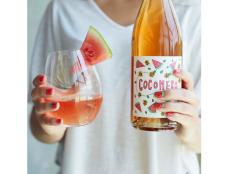 Its label smells like watermelon, which is what its name means in Italian and a flavor it is said to evoke.