These small dried bluish-gray seeds of the poppy plant measure less than 1⁄16 inch in diameter—it takes about 900,000 of them to equal a pound. Poppy seeds have a crunchy texture and a nutty flavor. They're used as a filling in various cakes, pastries and coffee cakes, as a topping for myriad baked goods, in salad dressings and in a variety of cooked dishes, particularly those originating in central Europe, the Middle East and India. Poppy seeds can be purchased whole or ground in most supermarkets. There are also beige and brown poppy seeds, which are more commonly available in Asian or Middle Eastern markets. Because of their high oil content, all poppy seeds are prone to rancidity. They should therefore be stored, airtight, in the refrigerator for up to six months. The flavor of poppy seed is augmented by toasting.

From The Food Lover's Companion, Fourth edition by Sharon Tyler Herbst and Ron Herbst. Copyright © 2007, 2001, 1995, 1990 by Barron's Educational Series, Inc.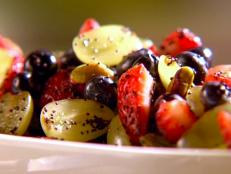 This sweet fruit salad goes well with everything and has a unique dressing that's sure to have people asking for the recipe. Make extra -- at 125 calories per serving, it's going to go fast.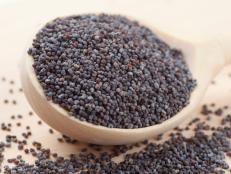 Associated most often with bagels and breads, poppy seeds are actually an overlooked healthy ingredient.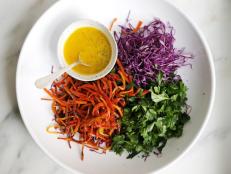 The crunchy texture of sliced red cabbage, paired with the sweet flavor of roasted carrots and lots of chopped parsley, makes a pretty great salad.