A soft, fresh cheese that is basically cottage cheese that is drained longer and therefore has a drier, slightly grainy texture, which is why it's also called dry-curd cottage cheese.

From The Food Lover's Companion, Fourth edition by Sharon Tyler Herbst and Ron Herbst. Copyright © 2007, 2001, 1995, 1990 by Barron's Educational Series, Inc.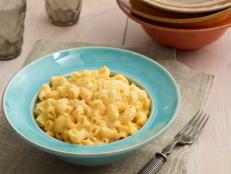 Check out Trisha's easy, creamy macaroni and cheese, which comes together easily in the slow cooker.