When the Colonists landed in North America they found the Indians growing and using pumpkins. This large, ungainly fruit was enthusiastically embraced by the new Americans and subsequently pumpkin pie became a national Thanksgiving tradition. It was so loved that one early Connecticut colony delayed Thanksgiving because the molasses needed to make this popular pie wasn't readily available. Large, round and orange, the pumpkin is a member of the gourd family, which also includes all varieties of melon, watermelon and squash. Its orange flesh has a mild, sweet flavor and the seeds — husked and roasted — are delicately nutty. Pumpkin seeds are commonly known as pepitas. Fresh pumpkins are available in the fall and winter and some specimens have weighed in at well over 100 pounds. In general, however, the flesh from smaller sizes will be more tender and succulent. Choose pumpkins that are free from blemishes and heavy for their size. Store whole pumpkins at room temperature up to a month or refrigerate up to three months. Puréed pumpkin is also available canned. Pumpkin may be prepared in almost any way suitable for winter squash. It's a good source of vitamin A.

From The Food Lover's Companion, Fourth edition by Sharon Tyler Herbst and Ron Herbst. Copyright © 2007, 2001, 1995, 1990 by Barron's Educational Series, Inc.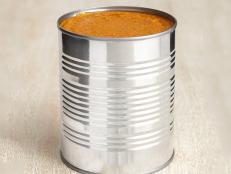 Put this fall favorite to good use with dozens of recipes from Food Network Magazine.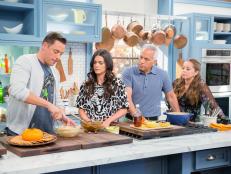 Bring the flavor of a classic PSL to your favorite autumnal dishes and drinks with this easy base recipe.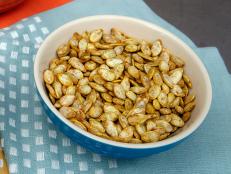 Learn three new ways to flavor this fall-favorite snack.