Pronunciation: [keh-sah-DEE-yah]

A flour tortilla filled with a savory mixture, then folded in half to form a half-moon shape. The filling can include shredded cheese, cooked meat, refried beans or a combination of items. After the tortilla is filled and folded, it's toasted under a broiler or fried. Quesadillas are usually cut into strips before being served, often as an appetizer.

From The Food Lover's Companion, Fourth edition by Sharon Tyler Herbst and Ron Herbst. Copyright © 2007, 2001, 1995, 1990 by Barron's Educational Series, Inc.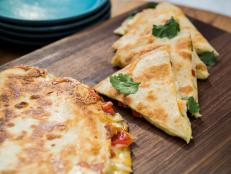 Three new and improved techniques for making one great snack.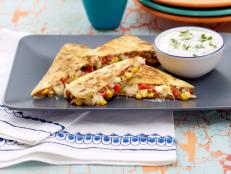 Prepare Sunny Anderson's Southwest Quesadilla With Cilantro-Lime Sour Cream from Food Network for an easy, family-friendly Meatless Monday dinner this week.