Pronunciation: [RAY-zihn]

In the most basic terms, a raisin is simply a dried grape. About half of the world's raisin supply comes from California. The most common grapes used for raisins are thompson seedless, Zante (see champagne grapes) and muscat. Grapes are either sun-dried or dehydrated mechanically. Both dark and golden seedless raisins can be made from Thompson seedless grapes. The difference is that the dark raisins are sun-dried for several weeks, thereby producing their shriveled appearance and dark color. Golden raisins have been treated with sulphur dioxide (to prevent their color from darkening) and dried with artificial heat, thereby producing a moister, plumper product. The tiny seedless Zante grapes produce dried currants, and muscat grapes (which usually have their seeds removed before processing) create a dark, perfumy and intensely sweet raisin. All raisins can be stored tightly wrapped at room temperature for several months. For prolonged storage (up to a year), they should be refrigerated in a tightly sealed plastic bag. Raisins can be eaten out of hand, as well as used in a variety of baked goods and in cooked and raw dishes. They have a high natural sugar content, contain a variety of vitamins and minerals and are especially rich in iron. See also currants.

From The Food Lover's Companion, Fourth edition by Sharon Tyler Herbst and Ron Herbst. Copyright © 2007, 2001, 1995, 1990 by Barron's Educational Series, Inc.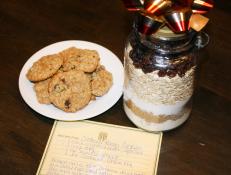 Instead of passing out cookies this year, try gifting a handmade cookie-in-a-jar kit.