This wild onion grows from Canada to the Carolinas and resembles a scallion with broad leaves. Also known as wild leek, ramp has an assertive, garlicky-onion flavor. It can be found—usually only in specialty produce markets—from March to July. Choose those that are firm with bright-colored greenery. Wrap tightly in a plastic bag and refrigerate for up to a week. Trim the root ends just before using. Though the flavor of a ramp is slightly stronger than the leek, scallion or onion, it can be used—raw or cooked—in many dishes as a substitute for any of those three.

From The Food Lover's Companion, Fourth edition by Sharon Tyler Herbst and Ron Herbst. Copyright © 2007, 2001, 1995, 1990 by Barron's Educational Series, Inc.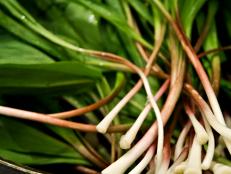 Ramps are a true farmers' market treasure. A member of the garlic and onion family, they're only available for a short time in the spring.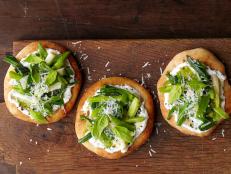 Ramps are a wild member of the onion family; during their fleeting season they are wonderful in all sorts of dishes